Benefits of getting an auto loan thru your credit union.
Vehicle refinance or purchase eligible¹
Up to 100% financing available²
Terms up to 96 months (8 years)
J. D. Power pricing (formerly NADA)
Protect your purchase with Loan Protection,
GAP, and Warranty Coverage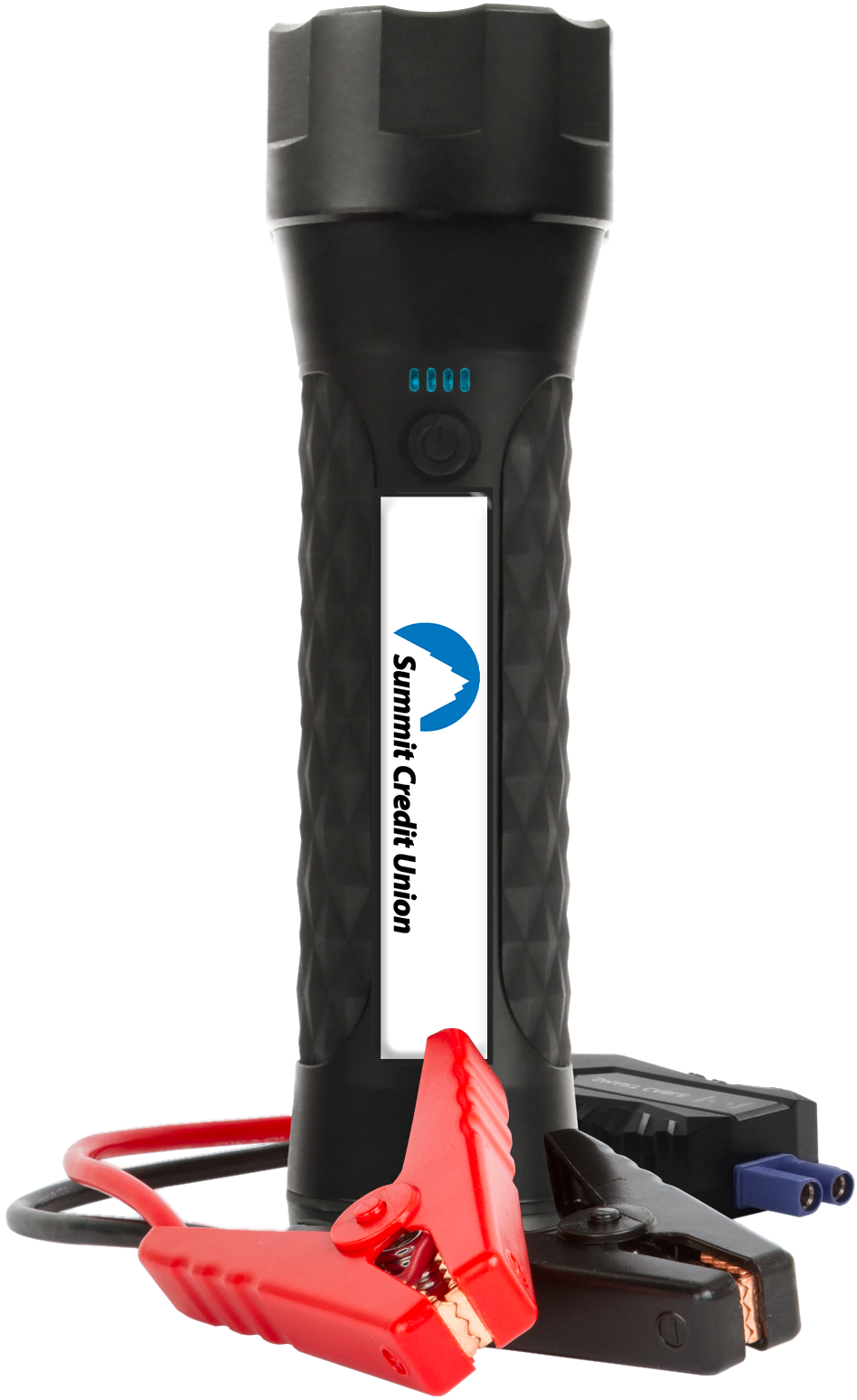 Get a Free Flashlight Jump Starter¹
We are excited to offer this popular, powerful, handy gadget to our members. Although it looks and feels like a simple flashlight, it will also jump start a car and provide extended USB power for an array of other devices (cell phones, tablets, fans, etc.).
For more information from the manufacturer, see the product page on the manufacturer website at LimitlessInnovations.com.
Manufacturer-Provided Details
PRODUCT DETAILS
The JumpSmart 10-in-1 is powerful enough to jump start most cars, trucks, SUV's, boats, motorcycles, lawn mowers, ATV's, and more! Instantly jump a drained vehicle battery by clamping the Smart Jumper Cables with the mini flashlight directly onto the vehicle battery terminals. It's powerful 29600mWh (8000mAh) 4-cell, high-grade Lithium-Polymer battery is more powerful than ever before with DC 12V 200A (start) – 800A (peak).
JUMP STARTER
Providing an impressive 800A (peak) from a compact yet lightweight flashlight, this is the most functional and compact jump starter on the market. The JumpSmart 10-in-1 can provide an essential boost for engines up to 8-cylinders (7.0L Gas / 4.0L Diesel). Perfect for jump starting most cars, trucks, SUV's, boats, motorcycles, lawn mowers, ATV's, and more!
FLASHLIGHT
Lightweight 8W, 330 Lumen LED Flashlight has 4-Modes (High Beam, Low Beam, S.O.S. & Strobe). Emergency red flashing feature. 495ft reach is the perfect tool for daily use, traveling, outdoor activities, and in emergency situations.
POWER BANK
Dual USB ports provide optional charge, up to 2.4 amps per port, for fast charging for USB-chargeable devices! Perfect for virtually any USB-chargeable device, including mobile phones, tablets, gaming devices, and more.
EMERGENCY & VERSATILE MULTI-TOOL
JumpSmart includes a compass, thermometer, reflector strip, and emergency audible alarm that is perfect for hiking, camping, and off-roading. These added abilities complete the ultimate emergency preparedness tool that everyone in the family needs!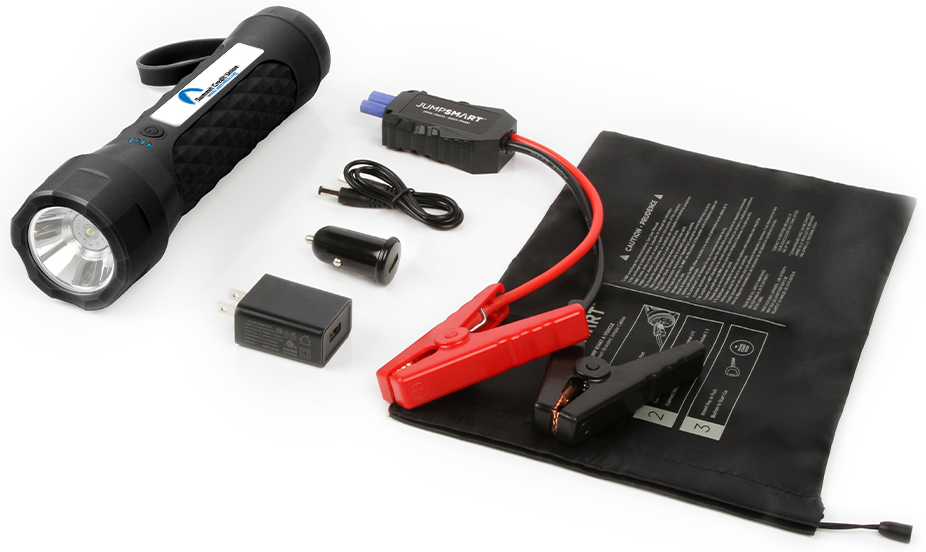 Included
This flashlight jump starter comes with a soft storage bag, instructions, jumper cable attachment with clamps, wall-plug charging adapter, cigarette lighter port charging adapter, and micro USB power adapter cable. It also comes with a manufacturer's 1-year Limited Warranty by Limitless Innovations.
More Benefits
Find the vehicle you want through our free buying service. Use J.D. Power (formerly NADA) values to make sure you're getting a good price. Then, let us hook you up with a low-cost loan that leaves you with more cash for gas, groceries, and glorious weekend road trips.
Auto Loan Rates as low as
3.75% APR ³,
New or Used, Purchase or Refinance.
Contact Us
Questions? Need help? Let us know.
¹ Application must be submitted between September 1 and September 30, 2022; loan must close by October 15, 2022. Minimum $5,000 loan; not available on refinancing of Summit Credit Union loans. This offer may not be combined with any other offer. "No Payments" means payments are deferred while interest will continue to accrue. Incentive quantities are limited. We reserve the right to provide a substitute for the incentive or any of its components with an item of similar monetary value.
² 100% financing is available for well qualified buyers. Subject to credit approval.
³ APR = Annual Percentage Rate. Actual rate is based on an evaluation of credit history, so your rate may differ.